Image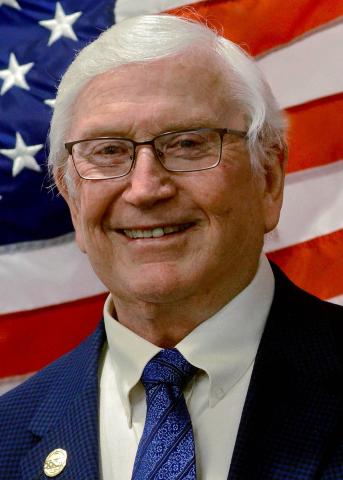 Commissioner
Burl Cain is a renowned correctional professional known for his transformative and innovative work in the Louisiana prison system during a storied career spanning more than 40 years. Gov. Tate Reeves appointed him as Commissioner for the Mississippi Department of Corrections effective May 21, 2020.
Cain retired from the Louisiana Department of Corrections (LDOC) after leading an evolution of change at the Louisiana State Penitentiary (LSP), once known as the "Bloodiest Prison in America." Under his 21 years of leadership, LSP, the state's only maximum-security prison, became one of the safest, most secure, and progressive maximum-security prisons in the nation. The prison houses more than 6,300 inmates with more than 4,000 serving life sentences for violent crimes. Two award-winning films about the prison were produced during Cain's administration. The stories are "The Farm: Angola, USA" (1998) and "The Wildest Show in the South: The Angola Prison Rodeo," (1999), which was nominated for an Academy Award for Best Documentary Short.
In addition to the film, Cain's work at Angola also has been the subject of numerous articles and books. The book The Angola Prison Seminary contains evidence-based research from Baylor University substantiating the reduction in violence and other positive effects of the faith-based ministry. Another book is Cain's Redemption: A Story of Hope and Transformation in America's Bloodiest Prison.
Cain served as Regional Warden from 2007 to 2015, supervising the administration of five prisons, including the Louisiana Correctional Institute for Women, and as Warden at LSP from 1995 until 2015. During his tenure as Warden, he founded the Louisiana State Penitentiary Museum, KLSP prison television station, the Accredited Hospice Program, and Bible College in conjunction with the New Orleans Baptist Theological Seminary. He also expanded the Angola Prison Rodeo, raised private funds to build seven chapels for inmate use, and created a re-entry court program allowing long-term inmates to mentor and equip short-term inmates with job skills to increase employability, successful re-entry, and save tax dollars. He worked with Awana to establish the Malachi Dad's program, which reconnects inmates with their children and trains them to become positive role models. Through these progressive and rehabilitative programs, LSP's violence rate dropped more than 60 percent, and gang affiliation disappeared during Cain's time as warden.
Before his arrival at Angola, Cain served as Warden of Dixon Correctional Institute in Jackson, La., from 1981 to 1995. He began his career in corrections as Assistant Secretary of Agribusiness for the LDOC from 1976 to 1981.
Cain serves as CEO and Founder of the Global Prison Seminaries Foundation, a nonprofit organization that promotes positive changing of prison culture through theological education programs in prisons throughout the United States and internationally. Prison Seminary Model programs now exist in 17 states, including Mississippi.
Cain is active with the following organizations: American Correctional Association (ACA), where he serves on the Resolutions and Policy Development Committee and as chairman of the Religion and Faith-based Services Committee; Prison Fellowship Ministries, where he serves on the board of directors and the advisory panel for the Warden Exchange Program, which he helped to establish; the Brooklyn Tabernacle, where he serves on the board of directors for the Brooklyn Tabernacle Church; and the Louisiana Department of Corrections Credit Unit, where he is board chairman. He also is a former president of the North American Association of Wardens and Superintendents (NAAWS) and former vice-chairman and state employee representative for the Louisiana Civil Service Commission.
Cain earned a Bachelor of Science degree in vocational agriculture from Louisiana State University and a Master of Science in criminal justice from Grambling State University. Cain is a Certified Corrections Executive through the ACA and is an Emotional Intelligence Certified Practitioner.
Cain is the married father of three children. He is the recipient of the Salvation Army's Others Award, the 2016 Prison Fellowship Servant of Hope Honoree, the ACA's E.R. Cass Award for Excellence in Corrections, NAAWS' 2003 Warden of the Year, and the 2003 Recognition of Outstanding Service in Prison Ministry at Wheaton College's Billy Graham Center.​
TH​​E FOLLOWING OFFICES REPORT DIRECTLY TO THE COMMISSIONER: 
Division of Institutions 
Division of Community Corrections 
Division of Administration and Finance 
Office of Communications and Constituent Services​ 
Medical Division 
Corrections Investigation Division​​ 
Technology and Program Services​ 
Legal Division 
​​​Programs, Re-entry, Education & Vocational Rehabilitation